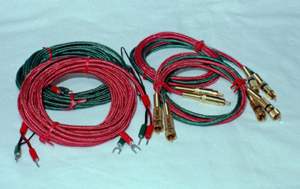 Only this as for the connection cord without the vice, the like is not in others.

A pure copper litz wire becomes the sound without a vice. In the pure copper wire merely made thick, it does not become such sound.

The electric high signal of frequency is passed through in the surface (the outer skin effect) of an electric conductor. Therefore, the litz wire of the structure with much surface area that insulated a fine copper wire respectively and gathered is needed.

However, sound will become bad if a litz wire applies covering for an ornament. The cause is the electromagnetic field that the signal current is able to through to an electric conductor.

The electromagnetic field that the electrification makes gives distortion to the next signal.

Then, a lead and a cable are not using an insulator as much as possible. Furthermore, the structure of an electric conductor, as for a required thing, an electric signal flows has a small inductance, and is that the structure of going and return is the same.

The cables made in our company filled the whole of this condition. When this cable is used it becomes the natural sound without a vice and this cable is understood to be the cable that does not have a parallel in others.