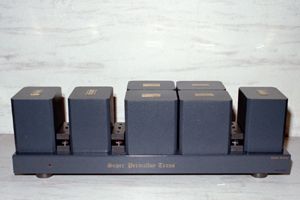 There is no luxurious phono equalizer amplifier any more! It is the amplifier that designed and planned with the thought that says that it is able to reproduce the sound of a LP-record itself rightly, by arranging to the transformer of the same quality to the exit (main amplifier OPT) from the entrance (pre amplifier MC transformer).
It is called the most excellent phono equalizer amplifier with which the result of the reason of the way of thinking was obtained and which does not have a parallel in others, and is not an overstatement.
That it is applied also to a speaker system made clear later the conditions arranged by this homogeneous thing.
(It is the required for reproduction of a natural chord.)
In order to pull out the greatest performance, please use it combining TFA-9501.